You Can Buy Girl Scout Cookies Online Now!
The fastest and easiest way for you to buy Girl Scout Cookies online.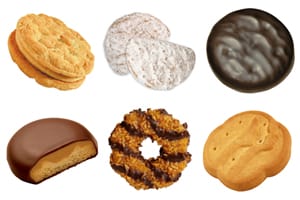 We've made it easy for you to sit back and order cookies online and have them shipped directly to your door. Our goal is to teach our girls how selling online can be beneficial in the modern economy – allowing sales to be made anywhere and everywhere.
Some Quick Facts About BuyCookiesNow.com:
My daughter came up with the original idea, she wanted to make it so her Grandparents and family could see all the cookies and order them from their house without having to travel. She helped me build the website, pick out pictures and describe the cookies. She picked out colors too!
100% of all cookies bought on this website go directly to her local Girl Scout Troop.
We ship to any US City or State via US Postal Service Priority Mail Flat Rate. Shipping, if used, is priced at cost with no markups. We cover the PayPal fees ourselves, but the price of education is worth every penny!

These Girl Scout Cookies can be bought online only during a specific period of time. If it says "Sold Out" that means we are "SOLD OUT" or on break until the Official Cookie Season is back.

If you see a type of cookie that you want to buy, but it is not listed, it means we don't have access to them currently. This can vary by season and by our region.
If you need to ask any questions, please Contact Us and we'll get you answers within 1 business day or less.
For more information on Girl Scouts, visit www.girlscouts.org